Getting about in Bangkok (Transportation)
It would be fair to say that getting about in the city is easy and not complicated. Thailand has a sound Transportation infrastructure however it is notorious for its well know traffic congestion's but at the end of the day most major cities of the world are renowned for its share of traffic jams.
The demand and supply has resulted in affordable transports by a variety of vehicles which just about cover everywhere possible.
Inside Bangkok the capital it is extremely easy. The BTS skytrain, subway, or cheap metered taxis, very cheap compared to overseas standards. If you want to be a little bit more adventurous you can beat all the traffic jams on a motorcycle taxi or if you want to get out and around the suburbs the abundance of minivans and buses will take you to most cities and popular destinations as it is a necessity for the daily life here.
You will be able to learn about the cheap and frequent mini van bus services which take you to every significant point. They normally pick up and drop passengers off on the way, its a great way to learn and read Thai names as it will help you greatly. If you go to one of the main bus terminals the buses are clearly stated where they are traveling.
In the streets or soi's as the Thais call them you will find open little makeshift buses which stop wherever anybody waves them down and of course not to forget the motorcycle taxis if you are in a hurry and very cheap.
The highway system is a quality network which interlinks all the major roads which if you are driving will be easy to use, certain toll points are located at section but again fairly inexpensive. 
A good way to start is to get acquainted with a Thai and travel upcountry together but timings and services will not be as frequent as the city. Note also peoples lifestyles are not as hectic as in the city so the system closes earlier, don't get stranded out there.
The capital is famous for its traffic, and parking can be difficult to find and expensive. In general all the transportation has a friendly and easy approach and it will not take you long to become an expert and your local knowledge will become useful the longer you are here in Thailand.
The following will give you a brief introduction to the most popular modes of transport used on a daily basis.
Taxi's
Arrive in style and comfort with the air con on
The majority of Taxis in Thailand have a meter. There will be no need for you to negotiate your trip as it will be clearly displayed TAXI METER  on the dash board. The taxi fleet are becoming more modern and the introduction over the previous months has seen an influx in the newer cars being used and are very pleasant and comfortable. 
A difficulty with foreigners has been that the majority of taxi drivers do not speak or reads English, so it is a useful tip to have it written down in Thai or show a map, illustration if they don't understand. The drivers are pleasant enough, I have been in several taxis and because the pronunciation has been slightly wrong the end destination has been different. 
Nowadays you also have the possibility to order a Taxi through Grab Taxi, and most Drivers are able to speak English.
Motorcycle Taxis
Zig Zagging around the city
When your in a hurry or late they are great, the motorbikes serve 2 purposes in general. Short trips up and down the soi's and longer trips to avoid the traffic. 
Its very easy to locate the motorcycle taxis as they always wear an orange coloured vest which identifies and shows that they are permitted to work from and also a number on their back which is there own personal identification.
Motorcycles are found at the beginning and normally at the end of the soi's where lots of people tend to be and apartments are located and buildings also businesses. The main purpose is to shuttle commuters up and down the soi. No helmets are necessary in the small soi's however it would be advised to always have your own helmet and be safe, the drivers also have a spare helmet which is given to their passengers. 
Fares are cheap normally a short journey would be 10-30 baht and for longer journeys it can be simply negotiable, in most cases you would normally pay the same as a taxi but it is much quicker on the motorcycle.
Elevated Skytrain
Both the skytrain and
subway are the best way to beat the traffic and the pollution. The trains do become very crowded during the morning and evening rush hours, the skytrain covers most of central Bangkok but in recent months it is expanding and it will have future plans to extend further to more outer suburbs.
The skytrain is very fast and convenient, most of the stations have covered walkways which allow you to walk to some malls and buildings just in case of a heavy downpour.
Tickets are medium priced, but like myself who use it daily, you can purchase a monthly ticket which works out cheaper and much more convenient, no need for queuing up.
Underground Subway 
The MRT runs thru main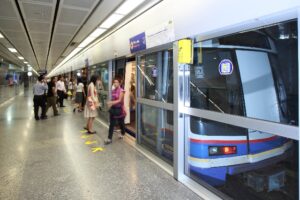 areas too and it intersects the skytrain at Asoke station and at Chatuchak. The subway is not as popular as the skytrain and a small number of foreigners use it compared to the BTS. Thai residents tend to use the MRT as it caters to more local areas, however it will be expanding too. The trains tend to be less crowded and these modern air conditioned stations are greatly appreciated during the hot summer seasons.
Buses
Ringside seat to the city
The buses in Bangkok provide such a cheap way to travel around the city, its also a fantastic way to see the real Bangkok which you would not see traveling by other forms of transport. You can become a local and observe everything which is going on around you, the sights, sounds and smells. The real hardcore Bangkok is encountered.
There are many types of buses available, there is so many routes and it can be a little daunting at first but experience will prevail. A good tip is to equip yourself with a MBTA map which is available at most of the main bus terminals.
Most of the destinations are written in Thai, it can be a fun adventure also getting to grips with it. The type of bus and colours are a good indication to exactly where they are heading but sometimes it is not the case. Make sure that you stick to the numbers that match the colours only. 
ALWAYS ensure that you have small change for the conductor as using big bank notes is a big no and they wont like it. ALWAYS keep the ticket at hand as they will change conductors sometimes and they will check it again. Try to travel on the new buses which are yellow and orange, the drivers and conductors are friendlier and have air conditioning. 
The water dragons
Bangkok has an extensive water transport system which serves passengers crossing or traveling along the CHAO PHRAYA river as well as the canals. Another way to see the city from a different perspective, cheap and a good way to see the local way of life.
The types of boats on service
Chao Phraya express boat service
Ferries
Long-tail 
The Khlong Saen Saep
The Khlong Phra Khanong
The Khlong Phasi Charoen
The Rangsit Canal service
** Khlong meaning CANAL