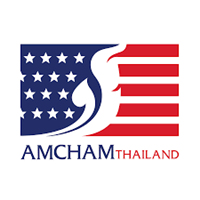 The American Chamber of Commerce in Thailand (AMCHAM) is the leading international business association in Thailand.
AMCHAM creates positive impact in the Kingdom of Thailand through capacity building, advocacy and networking for our members.
AMCHAM is an independent, non-partisan, non-profit organization. We maintain collaborative relationships with the U.S. Embassy Bangkok and affiliated U.S. government institutions. AMCHAM is also a member of the Board of Trade of Thailand (BOT), and liaises regularly with different ministries in the Royal Thai Government. We are active regionally through the AmChams of the Asia Pacific (AAP) and in the U.S. as an accredited member of the U.S. Chamber of Commerce.
Overview
Open Date/Hours :

7:30 AM– 12PM, 1 – 4:30 PM (Monday - Friday)